Overview
Compact with a versatile interface that can be used in a backpack or camera-mounted, and lightweight at only 3 pounds, LiveShot Portable is a bonded cellular solution designed for the most demanding field broadcasts. LiveShot delivers live, two-way, HD video and audio over a range of IP and cellular networks at latencies as low as 200mS. Utilizing sophisticated CrossLock VPN technology, LiveShot is able to make use of even the most challenging 3G/4G, Wi-Fi, and satellite networks to maintain a secure and stable connection. Used by TV stations, networks, sports franchises, and government organizations for a wide range of applications, LiveShot is ideal for streaming low-latency broadcast quality audio and video from anywhere internet is available.
Features
Highest quality H.264 video codec
AAC, HE-AAC, and AAC-ELD audio codecs
Less than 200mS delay for two-way broadcast (depending on network factors)
Full-duplex cue channel
CrossLock technology for secure and stable broadcasting
Switchboard for easier connectivity
Highly portable – 3 lbs, camera mounted, runs on phantom battery power
Works over 3G/4G networks, Wi-Fi, wired broadband IP connections, Inmarsat BGAN and VSAT terminals
LiveShot Portable works with:
LiveShot Rackmount
Portable
LiveShot Portable is compact and lightweight. Available with Anton-Bauer gold mount plates or V-mount plates, LiveShot is designed to sandwich between a professional video camera and a battery (though it can be hooked up to any camera with an HDMI port, and carried in any way imaginable). Powered from the battery or by an external AC power supply, LiveShot weighs 3 pounds and consumes 8 watts of power.
Video
LiveShot encodes and decodes video to the H.264 codec standard, which is the state-of-the-art codec for high quality video using low network bandwidth. But not all H.264 encoders are alike. Within the standard, several lesser-quality profiles are available to conserve processing power. For optimal video quality, LiveShot encodes with H.264 HIGH profile. While this option is unavailable in competing products, all H.264 options that maximize quality over poor networks and decrease latency are implemented in LiveShot.
Audio
Comrex has years of experience encoding live, low-latency audio over IP networks for broadcast, and LiveShot shows it. In addition to standard AAC audio coding, LiveShot uses HE-AAC and AAC-ELD audio coding, both reducing network bandwidth and lowering delay.
Latency
LiveShot can encode and decode an audio/video stream with less than 200mS delay (depending on encoding mode and network factors). LiveShot uses an automatic decoder buffer manager to keep delay to an absolute minimum.
Channels
LiveShot delivers full-duplex video and stereo audio between the field portable and studio rackmount systems. In addition, a full-duplex cue channel is available between the systems.
CrossLock
LiveShot utilizes CrossLock technology to create a stable and secure connection across the public Internet.
The most advanced network management tool on the market today, CrossLock gives users the ability to use multiple IP networks together simultaneously. When a new network is introduced, Crosslock will immediately evaluate how much bandwidth is available, while factoring in latency and jitter information, and combine the two connections to take advantage of all available bandwidth.
More than just combining networks, CrossLock can also monitor and dynamically adjust how much of your stream is being placed on each network, in real time. When necessary, CrossLock can apply appropriate error correction, recovery, or concealment techniques. And when a network becomes unusable, CrossLock can isolate it, without any user intervention.
CrossLock also adds intrusion protection, encryption, and forward error correction.
Internal Wi-Fi Access Point
LiveShot Portable provides an internal Wi-Fi access point. This access point serves a mobile-friendly web page, which enables users to control their unit through their smartphone via their browser or simple-to-use mobile app. Additionally, LiveShot can agree to terms and conditions of public Wi-Fi hotspots in coffee shops or hotels, making it easy to take advantage of available Wi-Fi networks.
Wireless
LiveShot offers connections to wireless modems via two USB ports, which can be used simultaneously to increase the bandwidth of connections. This feature allows users to choose their 3G/4G data carrier and/or Wi-Fi modem, depending on their circumstances. Additionally, when the LiveShot Hub is connected, two more USB ports are available (4 in total).
Along with USB modem compatibility, LiveShot is equipped with a built-in Ethernet port, which can be used to connect to wired broadband IP networks, and Inmarsat BGAN and VSAT terminals.
Switchboard TS
Comrex Switchboard is a feature that allows users to bypass common IP networking snags (like private LANs and firewalls) by routing data through a private server maintained by Comrex.
Switchboard within the hardware codec enables the following functions:
Comrex codecs can sync with a cloud based server and deliver status information
Comrex codecs can determine their public IP address and the type of any NAT-style router ahead of the codec, and display that information to the user
Comrex codecs can display presence, status, NAT info and IP addresses of other codecs within the same fleet
Comrex codecs can share this information with codecs outside the fleet (Shares)
Comrex codecs can take instruction from the server on how best to traverse NATs when placing a call between two codecs
Switchboard TS is included in the purchase of any LiveShot codec.
LiveShot Hub (Sold Separately)
For when your wireless coverage may not be ideal.
While the LiveShot Video IP Codec is designed to operate well when connected to the Internet via one or two 4G modems, a 4G network is not always available. When faced with a challenging 3G-only environment, the new LiveShot Hub will provide connections for up to four USB devices. The Hub provides additional 3G bandwidth and, because of LiveShot's advanced dynamic aggregation capabilities, the Hub also provides modem redundancy – as the camera moves, LiveShot will continuously adjust the amount of contribution from each modem.
Additional connection options
Beyond 4G and 3G cellular connections, LiveShot can utilize many other types of networks. For instance, typical 2.4GHz and 5.0GHz Wi-Fi networks can be accessed via USB devices, while 5.8GHz wireless radio networks, new mobile MIMO networks, and satellite uplinks are available via LiveShot's RJ-45 port for the harshest environments. Of course, you can also use a wired LAN connection when available.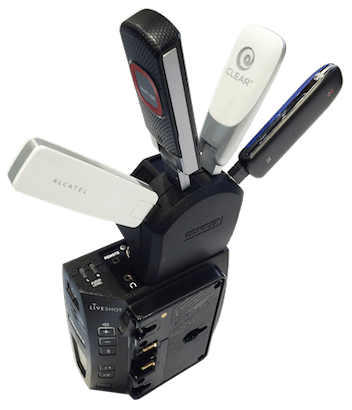 Comrex Connect Modems (Sold Separately)
The Comrex Connect Modem is designed to support the unique needs of remote broadcasters. A high-powered, industrial strength 4G/LTE modem outfitted with a high-gain antenna, the Connect Modem is more powerful than most USB data modems available on the market, to handle the heavy data load of a broadcast over IP.
Leverage Two Connect Modems
Leverage the power of two Comrex Connect Modems with your LiveShot Portable for twice the reliability. CrossLock technology, our sophisticated custom reliability layer, bonds the available cellular networks and sends a single media stream, along with background and error correction information, resulting in a higher level of reliability for remotes. LiveShot Portable supports up to two Comrex Connect Modems.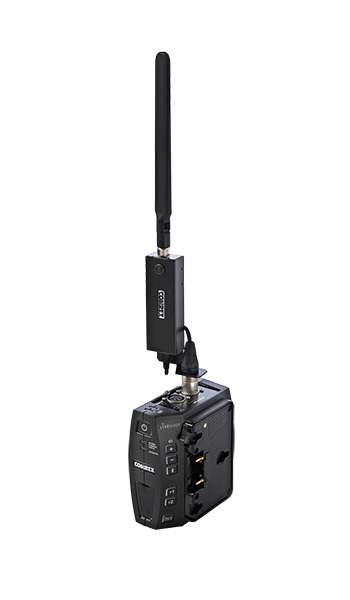 LiveShot Portable Pouch (Sold Separately)
Designed for Comrex by Portabrace to keep your LiveShot Portable secure while on the move. Velcroed cover protects attached Gold Mount style battery. Comes with padded shoulder strap and adjustable waist belt. Great for use with cameras that don't use AB or V-mount batteries.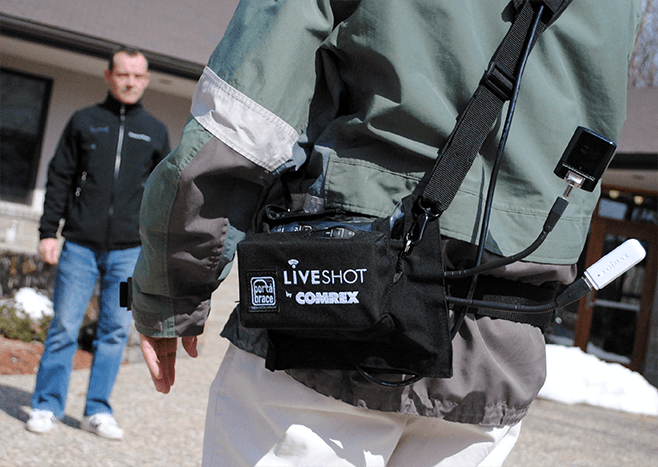 LiveShot Portable Rain Cover (Sold Separately)
The Comrex LiveShot Rain Cover by Portabrace is a "must have" to protect your LiveShot Portable when out in the elements. The weather resistant cover features Velcro fasteners which easily attach to existing Portabrace camera body armor for complete protection of your camera, LiveShot, and battery. An elastic drawstring keeps the LiveShot Rain Cover secure to the camera body while clear vinyl windows allow for complete visibility of LiveShot controls and indicators.
The LiveShot Rain Cover includes modem covers for both the LiveShot USB Hub and Dual USB Mast configurations. The modem covers have clear vinyl windows to provide visual access to modem status lights and displays and provide additional security for attached USB devices.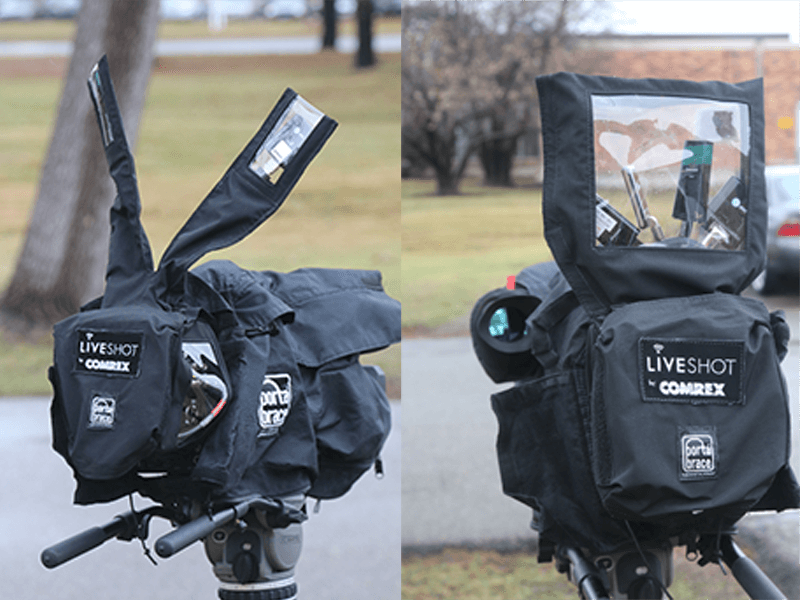 Extra-Small Case (Sold Separately)
Watertight, crushproof, and dust proof to ensure the best protection for your LivShot Portable.
Exterior Dims:
L 15.4″ x W 12.1″ x H 6.8″
Specifications
Dimensions: 5.5"H x 3"W x 5.625" L
Weight: 3lbs
Input Voltage: 8-20VDC (Included power supply 15V 24W)
Battery Input: 12-17VDC
Power Consumption: 8W (not including external modems)
Ethernet: 10/100Base-T
Composite Video Input: CVBS 480i/576i
Analog Audio In: +20dBu FS Stereo
HDMI Video Input: SD 480i/576i HD 720p 1080i
HD-SDI Video Input: SD 480i/576i HD 720p 1080i
Composite Video Out: CVBS 480i/576i
Audio Encoder: AAC/HE-AAC/AAC-ELD 18Kb/s-512Kb/s
Video Encoder: H.264 High Profile 256Kb/s-10Mb/s
Cue Audio Encoder: GSM 13Kb/s
Encode/Decode Delay: 200mS (not including network and buffer)
Operational Temperature Range: 0 to 50C
Operational Humidity Range: 0 to 90%
All equipment manufactured by Comrex Corporation is warranted by Comrex against defects in material and workmanship for one year from the date of original purchase, as verified by the return of the Warranty Registration information, either electronically or via mail. During the warranty period, we will repair or, at our option, replace at no charge a product that proves to be defective, provided you obtain return authorization from Comrex and return the product, shipping prepaid, to Comrex Corporation. The warranty does not cover batteries or crystals and does not apply if the product has been damaged by accident or misuse or as the result of service or modification performed by anyone other than Comrex Corporation.