Overview
Telos VX® is the first VoIP (Voice over IP) system for broadcast and is ideal for radio and TV applications, as well as some government applications. From remote IFBs to audience call-ins, it can run anywhere from one or two lines in a small studio to the on-air phones for your entire plant, giving you incredible operational power, adaptable workflows, and superior audio quality.
For medium to large facilities, the Telos VX Enterprise hardware appliance has an expandable capacity of up to 120 channels and can grow with your station over time.
Legendary Telos Audio Quality
Using VoIP, VX combines modern networking with the power of digital signal processing developed by Telos over the past three decades. Every call gets fifth-generation audio processing packed full of technology engineered to extract the cleanest, clearest caller audio from any phone line—even noisy cellular calls.
VX includes Smart AGC coupled with our famous three-band adaptive Digital Dynamic EQ, a three-band adaptive spectral processor, and noise gating. Call-ducking and host override are part of the VX toolkit as well. Users can conference multiple lines with superior clarity and fidelity. Send audio gets its own sweetening with an AGC, limiter, and Acoustic Echo Cancellation (AEC) technology that eliminates open-mic feedback.
AEC is crucial when you have talent answering and recording calls for later airing. Without headphones, the caller's own voice is coming out of a cue/preview speaker and immediately getting picked up by the talent microphone, where it is sent back to the caller. This is very distracting to the caller.
These audio samples demonstrate what the listener will hear with and without AEC in this situation.
And if you choose to use compatible telco services, calls from mobile handsets with SIP clients, HD capable telephone sets, and PC apps will benefit from VX's native support of the G.722 codec, instantly improving caller speech quality.
Standards-Based for Easy Connectivity
Whether you are new to IP networking, integrating with an AES67 network, or plugging into a Livewire® network, VX VoIP systems integrate into your ecosystem.
Telos VX systems are "facility-wide" broadcast phone products. That means multiple studios, multiple stations, multiple shows—with minimal hardware requirements. Telco is delivered via IP from your SIP PBX, hosted VoIP service, or UCaaS provider. For carrier-grade reliability and redundancy, a dedicated SIP trunk circuit can be integrated via a Telos-configured Asterisk-based PBX; legacy circuits such as POTS, ISDN, or T1 can be integrated in the same way. Once connected, all telecom and audio connectivity flows via Ethernet.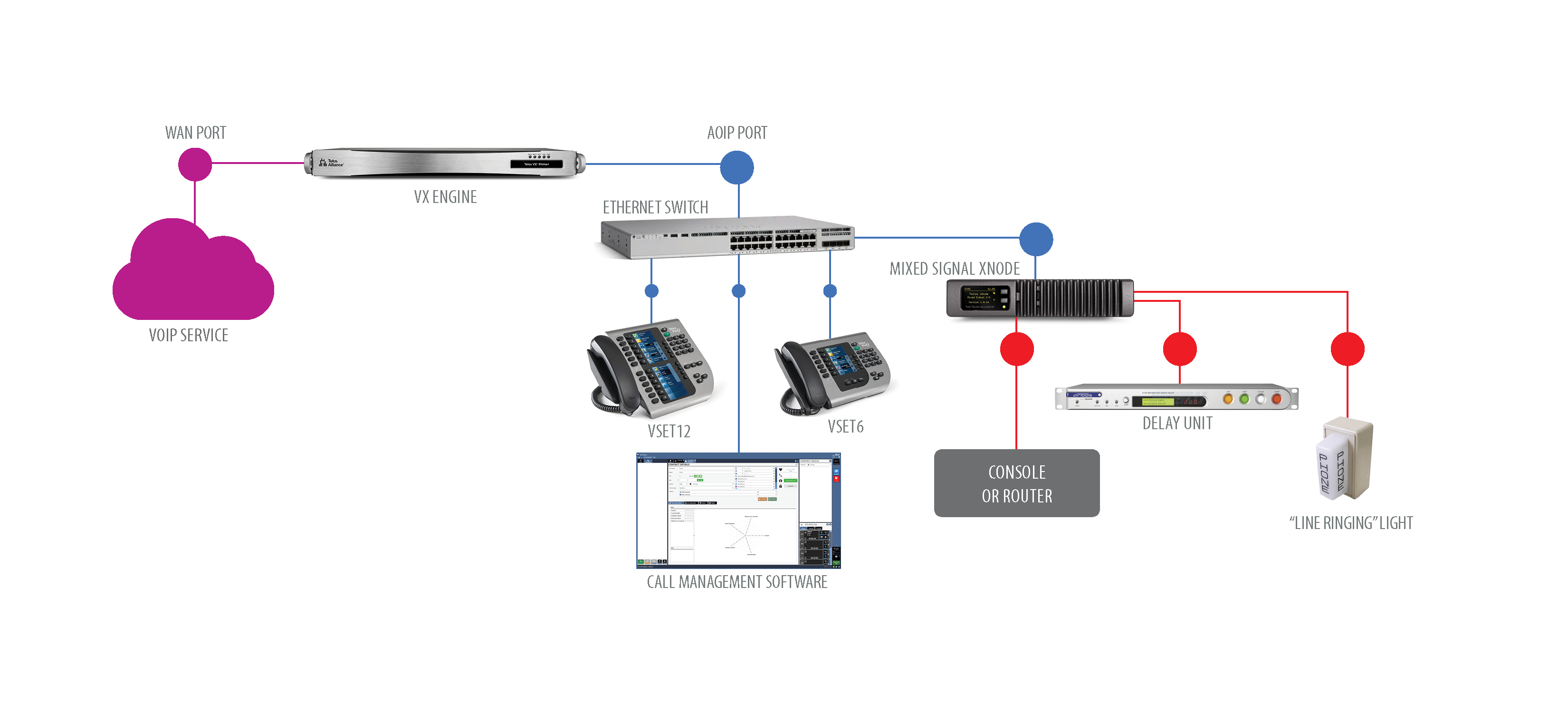 New-to-AoIP Installation
Don't have IP-Audio networking yet? VX will work with all console brands, networked or not, using Telos Alliance xNodes and the VX Call Controller drop-in controller for your console. xNodes, like the Telos Alliance Mixed Signal Node, break out audio into analog and digital formats, along with GPIO logic commands.
The diagram above shows a typical studio with an analog mixer, using a Telos Alliance Mixed Signal xNode to connect to the console and other broadcast equipment.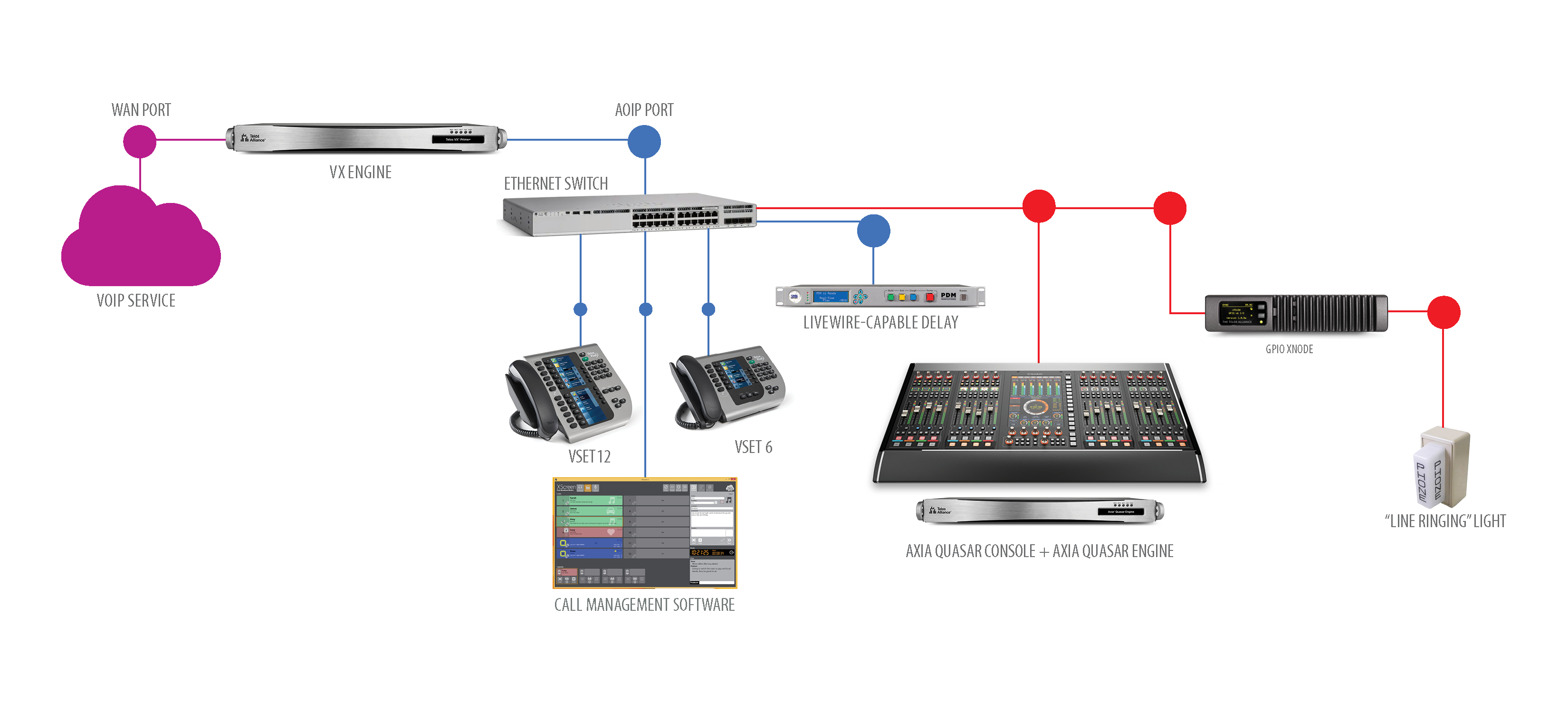 AoIP Installation
Installing a VX VoIP system in facilities already powered by Livewire+™ AES67 networks requires even less time and hardware. Your new VX phone system will plug right in for seamless integration of studio phones, mixing consoles, and routing networks. The audio inputs and outputs used and produced by VX are Livewire real-time audio channels and travel over the Livewire AoIP network just like the rest of your audio. You can use existing GPIO ports for "phone ringing" tallies or virtual GPIO for remote control of profanity delay units.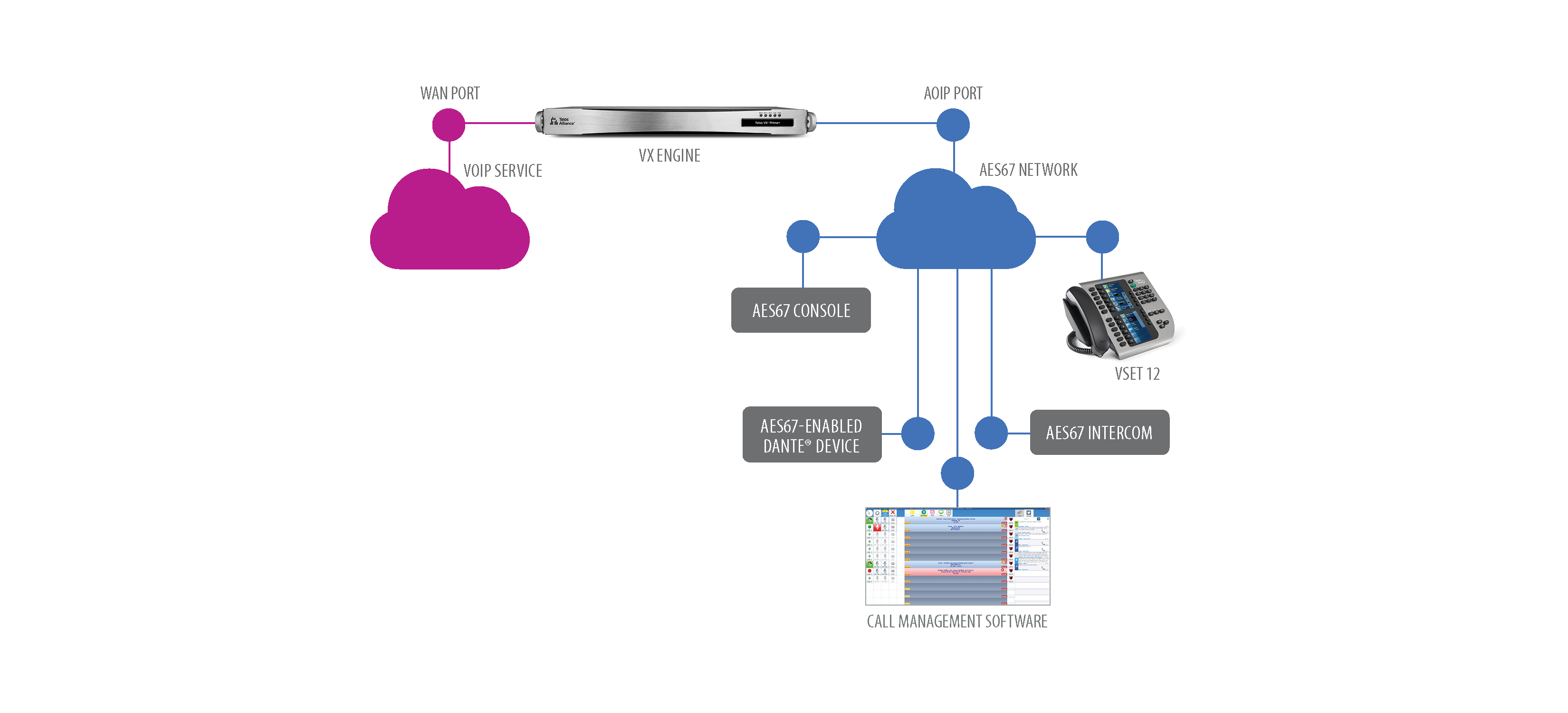 AES67 Installation
AES67 support brings a new level of compatibility and flexibility to VX VoIP systems. Support for AES67 gives broadcasters the capability of integrating VX into any AES67 environment or compatible SMPTE 2110-30 environments. With plug-and-play connectivity, you can network multiple channels of audio with any manufacturer's AES67-compliant hardware. Support for SAP advertisement means VX smoothly integrates alongside AES67-enabled Dante® devices.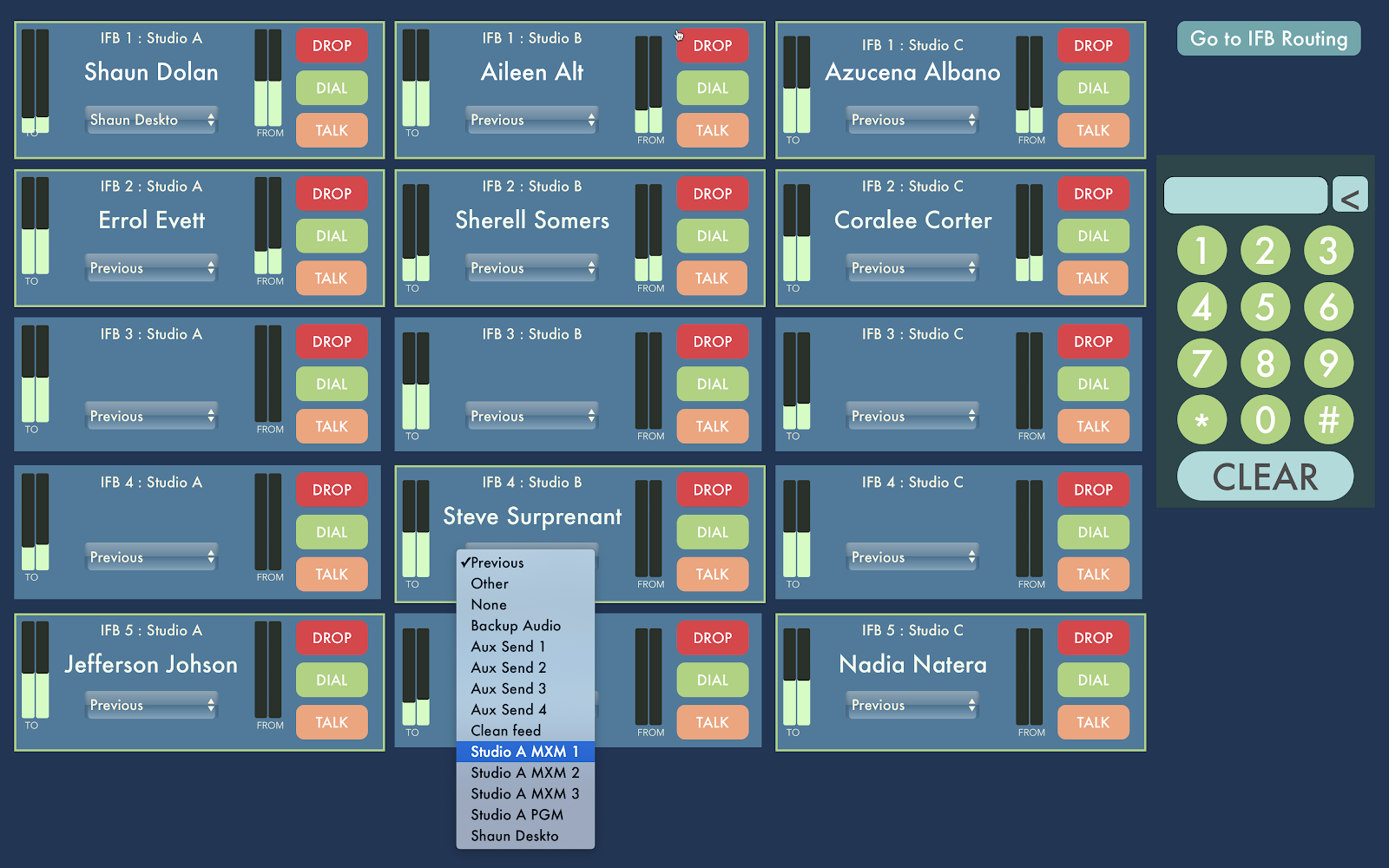 HTML-5 Control
When combined with Axia® Pathfinder™ Core PRO, you can create touchscreen-friendly custom HTML-5 panels to monitor and control every aspect of the VX system from any web browser. Remote talent can use a panel to manage all the lines in the facility in a Master Control setting; to take calls live while broadcasting from home; or, in a TV Control Room, to manage IFBs used by talent and technical staff in the field. Gone are the days of reporters calling into the wrong IFB and missing their live shot. With an HTML-5 control panel, producers can see the status and caller ID of each IFB line and even have the ability to call the reporter directly (pictured).
TelosCare™ PLUS
We know that your VX is just one piece of the telephony puzzle, which may include your VoIP provider, PBX vendor, IT team, network security team, and more. We love to leverage our combined centuries of telephony experience to serve as your trusted VoIP ninjas and help you complete and maintain your telephony puzzle for years to come.
TelosCare PLUS gives you the one-stop service and support you need long after the sale, going far beyond basic support and troubleshooting with proactive, holistic service and membership perks. As we move to a virtual broadcasting world and software becomes increasingly prevalent, this becomes even more critical. With TelosCare PLUS, customers can adapt their software to their needs, expanding or retracting their licenses as their operations change.
Features
Includes support for AES67, giving broadcasters added flexibility of integrating VX into any AES67 network and compatible SMPTE 2110-30 networks, in addition to Livewire networks.

HTML-5 control via Pathfinder Core PRO.

SIP call-handling throughout—no internal conversion to analog call handling like some other so-called "VoIP" systems.

Works directly with hosted VoIP or PBX services, and in conjunction with a PBX may support POTS, T1/E1, and ISDN BRI for maximum flexibility and cost savings.*

Standards-based SIP interface integrates with all modern VoIP-based PBX systems to allow transfers, line-sharing, caller ID, and common telco services for business and studio phones.

Standard Ethernet backbone provides a common transport path for both studio audio and telecom needs, resulting in cost savings and simplified studio infrastructure. Connection to hundreds of control devices (software or hardware) is possible.

Each call receives a dedicated processing path for unmatched clarity and superior conferencing.

Native Livewire® integration: One connection integrates caller audio, program-on-hold, mix-minus, and logic directly into Axia AoIP consoles and networks.

Connect VX to any radio console or other broadcast equipment using available Telos Alliance AES/EBU, Mixed Signal, and GPIO xNodes. Audio interfaces feature 48 kHz sampling rate and studio-grade 24-bit A/D converters with 256x oversampling.

Powerful dynamic line management enables instant reallocation of call-in lines to studios requiring increased capacity.

VSet Call Controllers™ with full-color LCD displays and Telos Status Symbols™ present producers and talent with a rich graphical information display. Each VSet features its own address book and call log.

The "Drop-in" VSet Call Controller™ modules can directly integrate VX phone control into your mixing consoles.

Clear, clean caller audio from fifth-generation Telos Adaptive Telephony technology, including Digital Dynamic EQ, AGC, adjustable caller ducking, and audio dynamics processing by Omnia®.

Wideband acoustic echo cancellation eliminates open-speaker feedback.

Support for the G.722 codec enables high-fidelity phone calls from iPhone and Android SIP softphones using a SIP server.

XScreen call-screening software from Broadcast Bionics, provided at no cost.
* Due to the wide variation in how traditional phone service can be delivered and the complexities involved in converting those services to SIP, we want to talk with you about your system design before you order. Telos has VX System engineers standing by to help you draw up a configuration that will ensure your VX purchase will perform to your expectations when using legacy telephony circuits.
In Depth


Telos VX Enterprise
With capacity expandable to up to 120 channels (hybrids/faders), Telos VX Enterprise is an appliance-based system ideal for medium to extensive facilities that can grow with your station over time. You can easily expand this modular system and configure it to manage a network of 60 or more studios, each with a dedicated Program-On-Hold input—truly a "whole-plant" solution for on-air phones.
Base system is licensed for up to 24 channels, expand in license increments of 8 up to 120 channels.

Maximum number of SIP numbers: Unlimited

Maximum active on-air calls: 120

Maximum on-air calls on one fader: 12

A Telos system engineering consultation is required for any system configuration over 72 channels.
VX System Components
VX Engine
VX Enterprise and Prime+ are 1RU rack-mount appliances with two Gigabit Ethernet ports and dual-redundant power supplies. VXs is a container-based solution that runs on your own server or in the cloud. VX systems are web-based, so remote control and configuration are easy—engineers can work from any place they can get online.
You'll notice no audio I/O or telco ports on VX Engines themselves; that's because all I/O is handled via Ethernet. The AoIP network supports a wide variety of peripherals such as Axia audio consoles, AES67 audio devices, VSet phones, call management software, console-integrated controllers, and more. VoIP services connect through a dedicated WAN Ethernet jack for routing simplicity and easy maintenance.
Dual VX Engines can be configured in a primary/backup scenario for complete redundancy.
VSet Phones
VSet phones can work like a traditional Telos controller, with calls being selected, held, and dropped in the way to which operators have grown accustomed. But because the VX system is so powerful, it unlocks much more functionality: You can spread multiple calls over several faders, transfer calls, switch Shows, enable Auto-Hold, and more.
The LCD delivers detailed line status, caller information, caller ID, time ringing-in or on-hold, and even caller comments entered in screening software applications. Status Symbols help talent run tight, mistake-free shows. Each VSet phone has its own web server for easy remote configuration and software upgrades. A single Ethernet connection supplies IP connectivity and Power over Ethernet.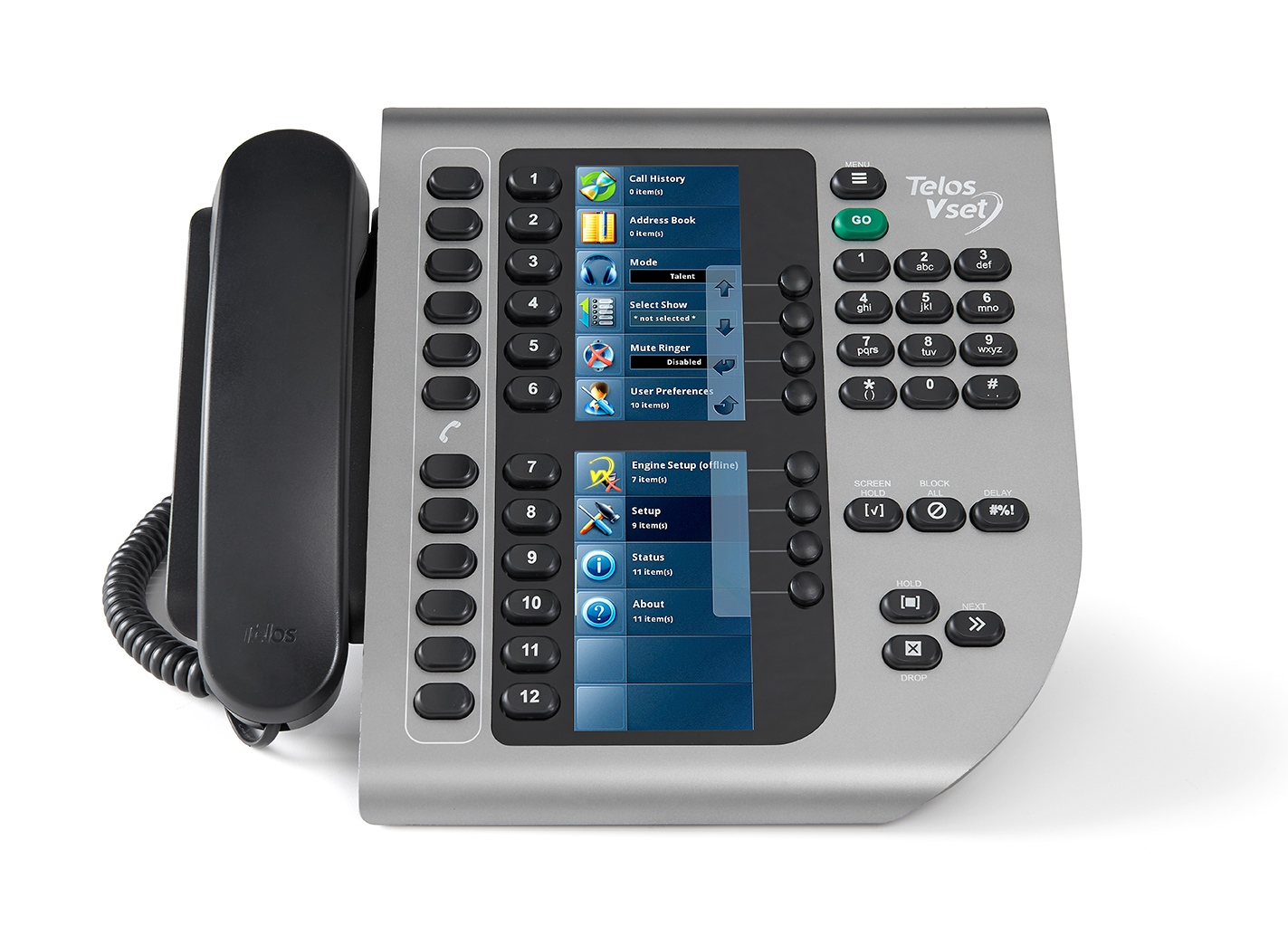 VSet12
The VSet12 is a 12-line IP-based controller for the VX featuring a display that provides line status and caller information.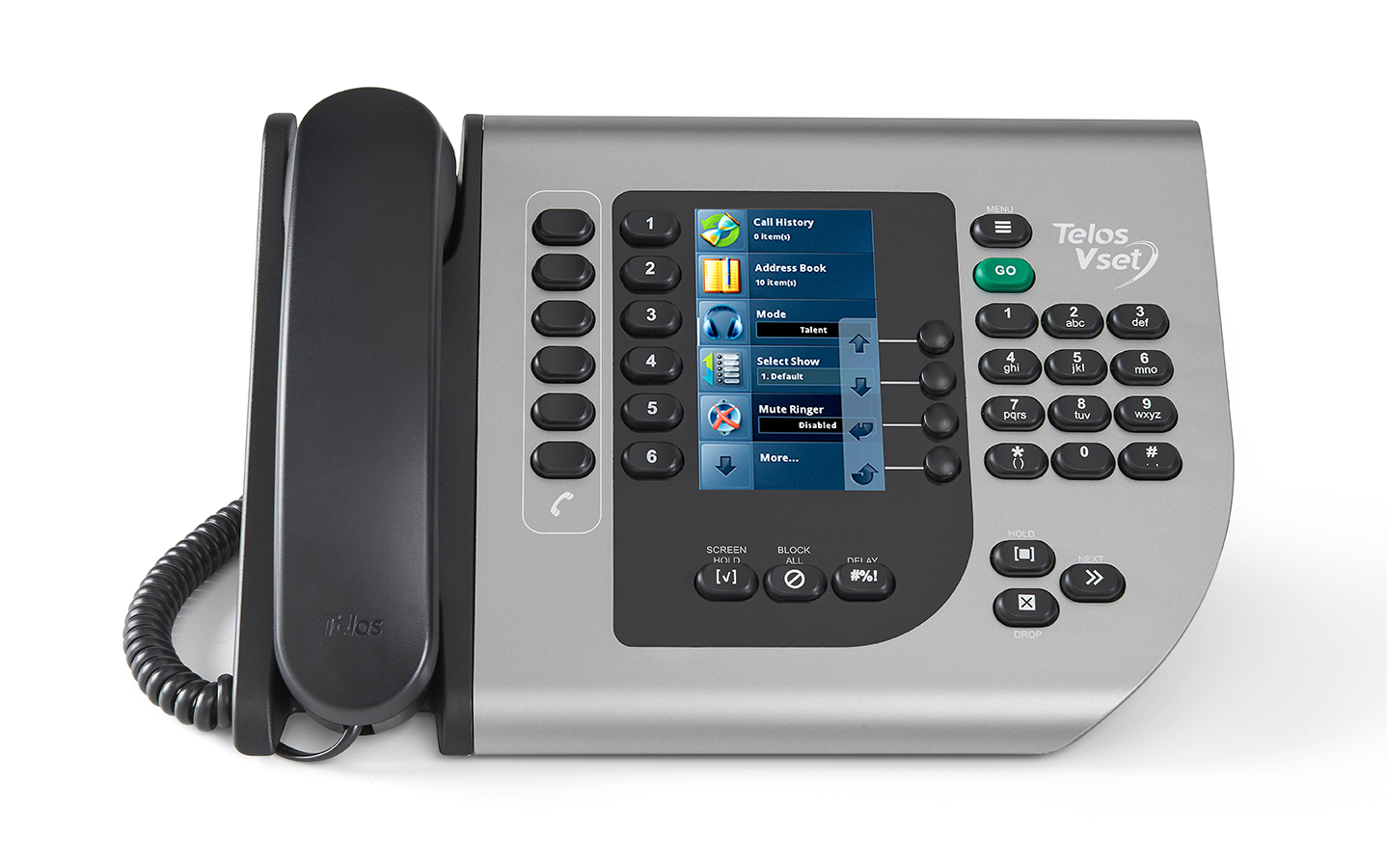 VSet6
VSet6 is a 6-line phone controller for VX. With the same capabilities as the VSet12 but half the lines, it's excellent for smaller or secondary studios.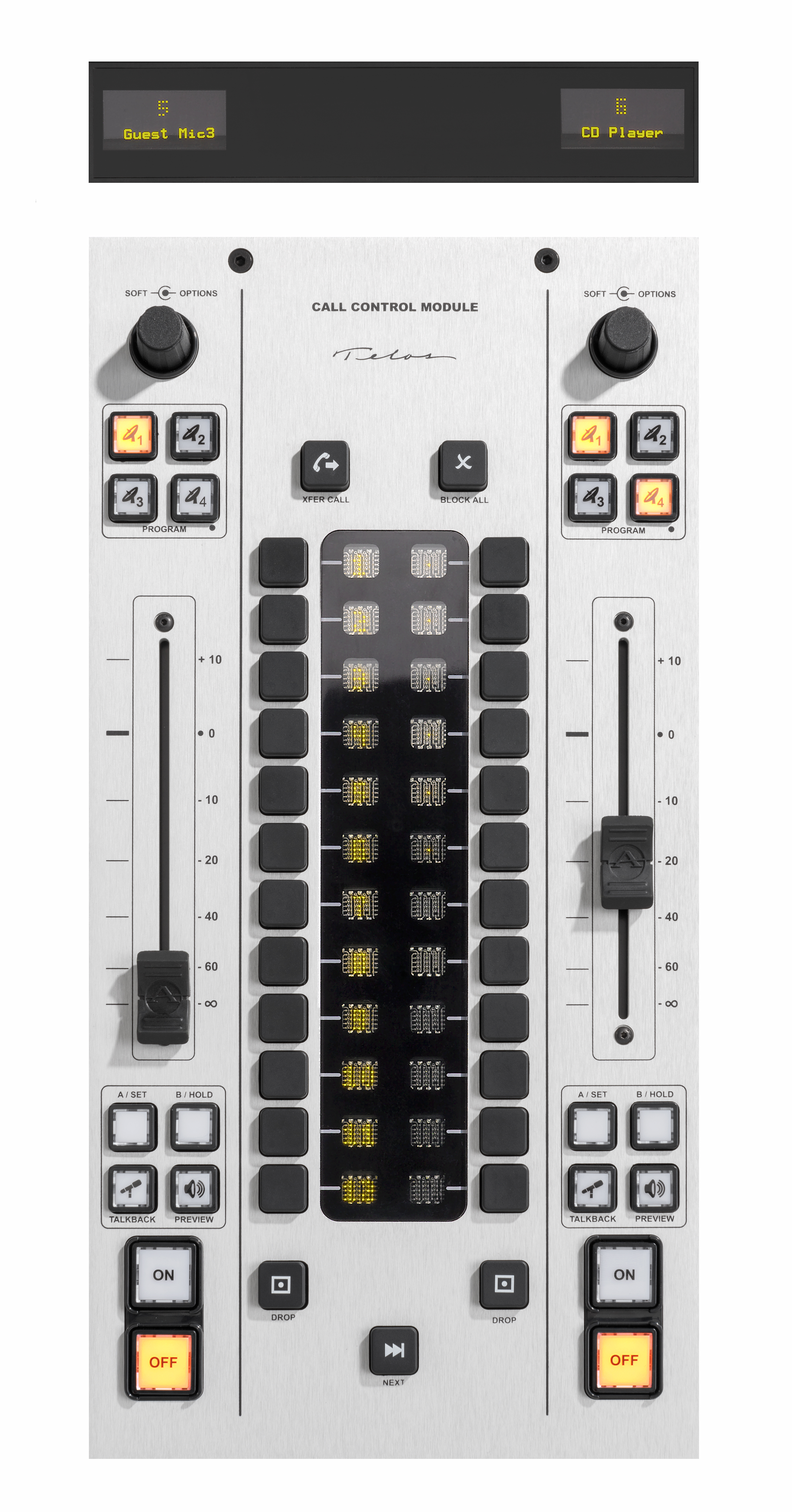 On-Console Control
Talent can take control of phones without ever having to divert their attention from the board with the Axia Console Controller, which provides the ideal way to integrate broadcast phones into the on-air console—the control center of every studio. VX systems connect directly to Axia Quasar, Fusion, Element, iQx, iQ, and Radius mixing consoles. Use Axia Pathfinder Core PRO to add console control to the iQs virtual console.
You can program the rotary Options Control knobs to trim source or fader gain when turned, and alphanumeric channel displays give complete information on source assignment, channel options, and more.

VSet Call Controller
Want in-console control of your VX system but don't have an Axia mixing console? No problem—Telos provides VSet Console Controller electronics packages, which may be fitted to your console using panels supplied by your OEM console provider or preferred third-party fabricator.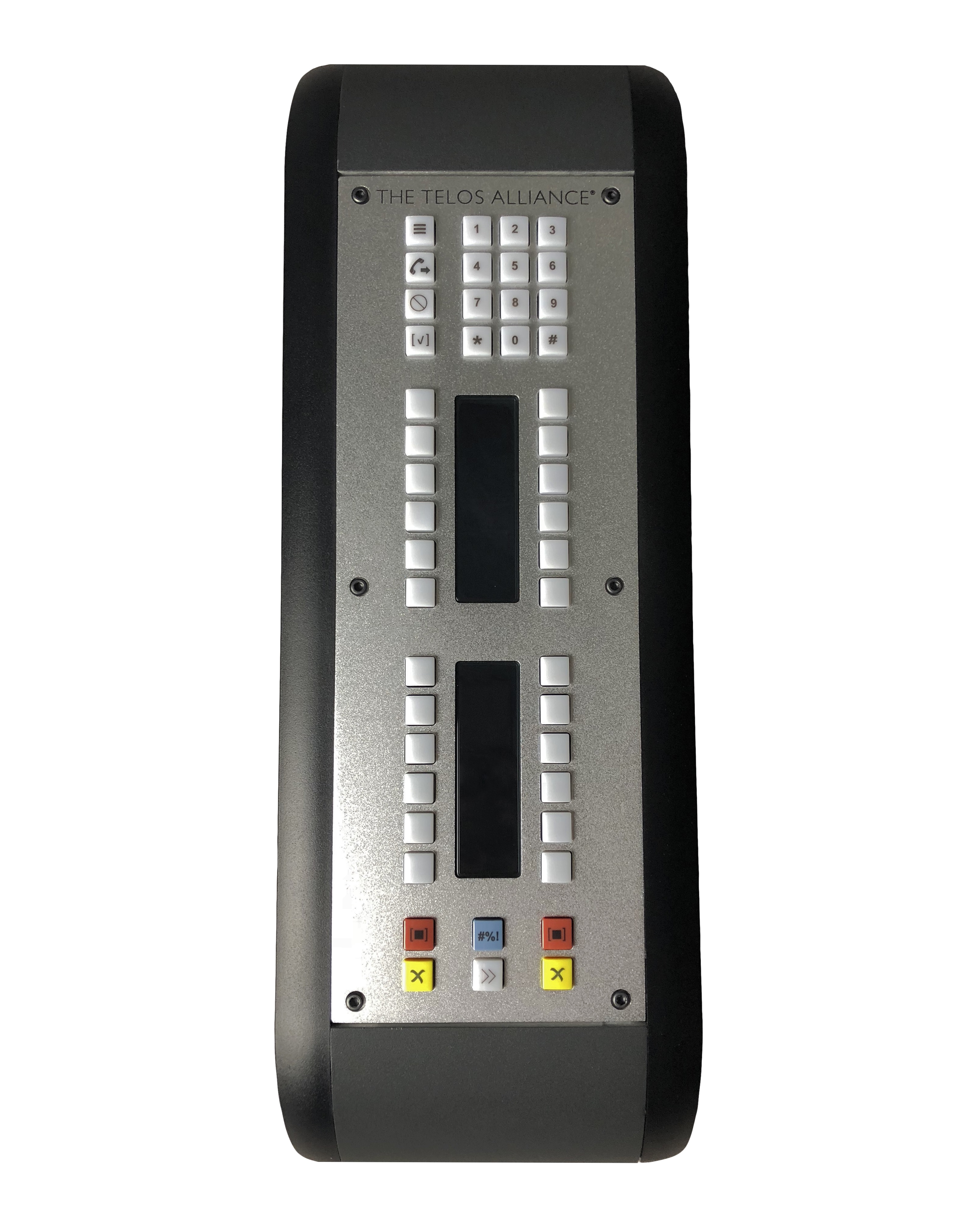 VSet Desktop Controller
The Telos VSet Desktop Controller with visual line-status indicators provides a simplified hardware interface for operators and talent to manage a fast-paced and error-free talk show. It provides single-press control of up to 12 lines and two channels, freeing users to focus on their content while quickly taking, Drop, Hold, Transfer, and dial calls.
Telos Alliance xNode Audio Interfaces
Telos Alliance xNodes let you connect VX to any non-networked radio console or other broadcast equipment, using standard analog or AES3 I/O. A GPIO xNode provides control logic where needed. The Telos Alliance Mixed Signal xNode provides analog, AES3, and GPIO interfaces to cover all your bases.
Compatible with Call Management Software
Since we introduced the VX product family more than a decade ago, Livewire partners have developed incredible call management software and mobile apps designed specifically to tap into the power of VX VoIP systems. Each of these free and paid software packages has unique features to suit many common workflows, and some include additional features such as prize management and social media integration. Please visit the Call Management Software Guide to learn more about the options available.
Use with Axia Pathfinder Core PRO
For more custom needs, Axia® Pathfinder™ Core PRO Broadcast Controller and VM can monitor, control, and display all aspects of your VX system. This enables customized solutions such as drag-and-drop construction of custom control panels, timed Show changes based on studio schedules, or even API translation between third-party systems to display caller information or control lines. The possibilities are endless.
Specifications
Analog Inputs (with Telos Alliance xNode)
Input Impedance: >40 k Ohms, balanced

Nominal Level Range: Selectable, +4 dBu or -10dBv

Input Headroom: 20 dB above nominal input
Analog Outputs (with Telos Alliance xNode)
Output Source Impedance: <50 Ohms balanced

Output Load Impedance: 600 Ohms, minimum

Nominal Output Level: +4 dBu

Maximum Output Level: +24 dBu
Digital Audio Inputs and Outputs (with Telos Alliance xNode)
Reference Level: +4 dBu (-20 dB FSD)

Impedance: 110 Ohm, balanced (XLR)

Signal Format: AES-3 (AES/EBU)

AES-3 Input Compliance: 24-bit with selectable sample rate conversion, 32 kHz to 96kHz input sample rate capable

AES-3 Output Compliance: 24-bit Digital Reference: Internal (network timebase) or external reference 48 kHz, +/- 2 ppm

Internal Sampling Rate: 48 kHz

Output Sample Rate: 44.1 kHz or 48 kHz

A/D Conversions: 24-bit, Delta-Sigma, 256x oversampling

D/A Conversions: 24-bit, Delta-Sigma, 256x oversampling

Latency <3 ms, mic in to monitor out, including network and processor loop
Frequency Response (with Telos Alliance xNode)
Any input to any output: +0.5 / -0.5 dB, 20 Hz to 20 kHz
Dynamic Range (with Telos Alliance xNode)
Analog Input to Analog Output: 102 dB referenced to 0 dBFS, 105 dB "A" weighted to 0 dBFS

Analog Input to Digital Output: 105 dB referenced to 0 dBFS

Digital Input to Analog Output: 103 dB referenced to 0 dBFS, 106 dB "A" weighted

Digital Input to Digital Output: 138 dB
Total Harmonic Distortion + Noise (with Telos Alliance xNode)
Analog Input to Analog Output: <0.008%, 1 kHz, +18 dBu input, +18 dBu output

Digital Input to Digital Output: <0.0003%, 1 kHz, -20 dBFS

Digital Input to Analog Output: <0.005%, 1 kHz, -6 dBFS input, +18 dBu output
Crosstalk Isolation, Stereo Separation, and CMRR (with Telos Alliance xNode)
Analog Line channel to channel isolation: 90 dB isolation minimum, 20 Hz to 20 kHz

Analog Line Stereo separation: 85 dB isolation minimum, 20 Hz to 20 kHz

Analog Line Input CMRR: >60 dB, 20 Hz to 20 kHz
IP/Ethernet Connections
(1) Gigabit Ethernet via RJ-45 LAN connection (AoIP)

(1) Gigabit Ethernet via RJ-45 WAN connection (VoIP)
Processing Functions
All processing is performed at 32-bit floating-point resolution

Send AGC/limiter

Send filter

Gated receive AGC

Receive filter

Receive dynamic EQ

Ducker

Sample rate converter

Acoustic Echo Canceller
Power Supply AC Input
Hot-swap capable dual-redundant internal auto-ranging power supplies. 90 – 132 / 187 – 264 VAC, 50Hz/60Hz. IEC receptacle, internal fuse.

Power consumption: 100 Watts
Operating Temperatures
-10 degree C to +40 degree C, <90% humidity, no condensation
Studio Audio Connections
Via Livewire IP/Ethernet. Each channel (hybrid) has one input and one output

Each studio has a Program-on-Hold input

Each Acoustic Echo Canceller has two inputs (signal and reference) and one output

Livewire+™ AES67 equipped studios may take and supply audio directly to/from the network. Telos Alliance xNodes are available for analog and AES3 breakout.

VX supports AES67 connectivity. AES67 stream parameters:

(2) channels per stream, 1 ms packetization rate

Sample rate: 48 kHz

Payload type: 46

Source port: 5001

Destination port: configurable

Time to live (TTL): configurable (1-255)

IEEE 802.1p priority code point (PCP): configurable (0-7)

IEEE 802.1Q VLAN tag: configurable (0-4094)

DiffServ code point (DSCP): configurable (0-63)

Don't Frag (DF) bit: configurable (true/false)

Receive buffer size: configurable (2000-20000 μs)

VX supports PTPv2 (IEEE 1588-2008) clocking. Domain, sync interval, announce interval, announce timeout, and many other parameters are all configurable.
Telco Connections
Audio: standard RTP. Codecs: g.711μ-Law and A-Law, and G.722.

Control: standard SIP endpoint. ISDN PRI/T-1, ISDN BRI, and POTS may be supported with the appropriate interfaces using an existing PBX or an Asterisk-based PBX optionally configured by Telos Alliance.
Dimensions and Weight
Rackmount 1RU hardware platform, rack rails provided

1.75" H x 19" W x 15.5" D (44 x 483 x 394 mm)
Regulatory
North America: FCC and CE tested and compliant, redundant power supplies are UL approved.
Europe: Complies with the European Union Directive 2002/95/EC on the restriction of the use of certain hazardous substances in electrical and electronic equipment (RoHS), as amended by Commission Decisions 2005/618/EC, 2005/717/ EC, 2005/747/EC (RoHS Directive), and WEEE.